Historic New Orleans Cemetery District Tour
Special Discounts
4-5 people $21.00 per person
6 or more $17.00 per person
Contact 504-295-9047





History & Location
Cemetery tours of The Historic New Orleans Cemetery District at the end of Canal Street make it possible to tour at least three cemeteries in one hour. The true taphophile can indulge his or her taphophilia by exploring several more cemeteries after the guided tour.
Visitors and some locals have no idea of the wealth of history, art and culture which abound in this necropolis. The Historic Cemetery District is a short streetcar ride from the French Quarter, Central Business, Warehouse District, and Convention Center.
The Historic New Orleans Cemetery District is comprised of the oldest Jewish cemeteries, two Masonic cemeteries, three Catholic cemeteries, three cemeteries owned by fraternal societies, and Holt Cemetery owned by the city of New Orleans. The official New Orleans Katrina Memorial is located here in the former Charity Hospital Cemetery on Canal Street. Learn more about Hurricane Katrina.
Most of these cemeteries were built in the mid 1800s, a time of burgeoning population growth in New Orleans. It was also the era of sweeping Cholera and Yellow Fever epidemics.
With a little help from your guide you will be able to read Hebrew entries in the Jewish cemeteries, learn Hebrew symbolism and explore the history of the Jewish people of New Orleans.
The Catholic Church built St. Patrick Cemeteries 1, 2, and 3 to accommodate the Irish immigrants who streamed into New Orleans during the 1840s, fleeing the difficult times in Ireland. The St. Patrick cemeteries have the typical above ground family tombs a visitor to New Orleans expects to see.
The fraternal society cemeteries Cypress Grove and Greenwood, are owned and operated by the Fireman's Charitable and Benevolent Association. Greenwood Cemetery is across the street on City Park Avenue. It is a densely packed graveyard. Street names identify the different sections, and cemetery itself is reminiscent of crowded New Orleans neighborhoods.
Cypress Grove is at the corner of Canal Street and City Park Avenue. It has a variety of tomb types and outstanding society tombs.
Masonic cemeteries 1 and 2 are a couple of blocks down the street on City Park Avenue. If you're not exhausted at the end of your trek, you can walk two blocks down City Park Avenue to Masonic Cemeteries 1 and 2, and finish up with a walk of another block to Holt Cemetery which is exclusively in ground burial.
For more information on our cemeteries and related topics, visit our New Orleans Cemeteries page.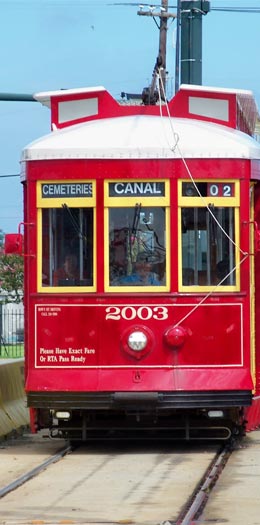 Historic Cemetery District Location
Mid-City New Orleans
Canal St. & City Park Ave.
Katrina Memorial
Just off the end of the Canal Street Cemeteries streetcar line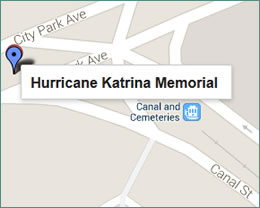 Getting here from Downtown
via the Canal St. Cemeteries
streetcar line
View in Google Maps
KML file for Google Earth
Tour Details
The Historic New Orleans Cemetery District tour includes Dispersed of Judah and St. Patrick Cemeteries, as well as the Katrina Memorial.
Meet your scheduled tour guide at the Sacred Grinds Coffee House, near the end of the Canal Street Cemeteries streetcar line at Canal St. and City Park Ave. (Street View).
If you'd like to take the streetcar from downtown to this historic area, we've created a annotated map for you! It's located above in the Location section.
We welcome volunteer and/or student groups with generous discounts. We also offer a discount for any group of ten or more traveling together.
If you have any questions, or if you're ready to reserve your tour, don't hestitate to contact us at 504-295-9047 or info@tour-new-orleans.com.
Historic Cemetery District
Hours of Operation
8:30 am - 4:30 pm
Historic Cemetery District Tours
2 hours (includes St. Patrick, Dispersed of Judah, Cypress Grove)
$25 per person

2 hours (St. Patrick, Dispersed of Judah, and Metairie Cemetery)
$25 per person
Discounted Rates for Larger Groups