French Quarter Walking Tour




A Tour of the French Quarter

Our French Quarter walking tour offers the opportunity to explore the evolution of New Orleans from its origin as a failed French colony to a city of diverse traditions, cuisine, architecture, history, music and culture.
From its founding by French explorers in 1718 through its transition to a Spanish colony in the mid- 1700s, New Orleans was an unsuccessful business venture.
Its location on the Mississippi River offered great opportunity for growth and prosperity, but French and Spanish leaders failed to capitalize on its potential.
Spain retroceded New Orleans to Napoleon in 1800, thus enabling him to sell the colony to the United States in 1803. And then…the boom began.
New Orleans became the second largest port in the U.S. It held to the culture, traditions and architecture of its French and Spanish heritage, making it unlike any other city in America. By 1860, New Orleans was second among all U.S. cities in per capita income.
The French Quarter walking tour takes you on a time travel adventure through the city's beginnings, transitions, tribulations, resilience, and triumphs.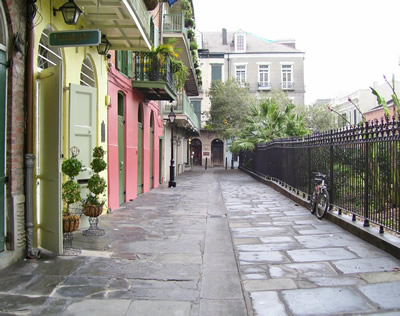 Pirates Alley, French Quarter
Schedule Your Tour Today!
We can customize a tour if have four or more people. Private tours are also available.
If you have any questions, or if you're ready to reserve your tour, don't hestitate to contact us at 504-295-9047 or info@tour-new-orleans.com.
French Quarter Walking Tour
2 hours
$25 per person for groups of 1-3
$21 per person for groups of 4-5
$17 per person for groups of 6 or more