Custom Group Tours
Special Discounts
4-5 people $21.00 per person
6 or more $17.00 per person
Contact 504-295-9047




Why choose TOUR-NEW-ORLEANS.COM?
Our tour guides are experienced, knowledgeable, and enthusiastic. We offer generous discounts for groups. Discounts range from 20% to 50%, depending on the size and type of your group, as well as the duration of the tour. We can customize tours to suit your interests and schedule. If you are traveling by motor coach, or van, we can provide a Step-On guide.
Over the past ten years, we have organized tours for students, volunteers, professional and nonprofit groups, youth and church groups, bands, choirs, wedding parties, reunions of every type, corporate groups and groups of friends who just want to have a good time in New Orleans.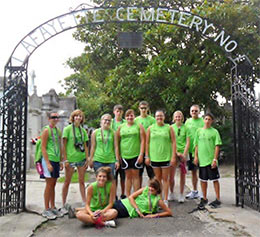 What kinds of customized tours have you done?
African-American Heritage
New Orleans Music
Women in New Orleans History
Authors Past and Present
Sacred Places, which has two options, both requiring a van or bus for your use:

Option One offers a a look at religious diversity, and can include churches, mosques, synagogues, cemeteries and shrines.
Option Two focuses on New Orleans Catholic heritage and encompasses places that interest Catholics specifically.

We can customize any of the tours we regularly offer to suit your group.
Schedule Your Tour Today!
We offer customized walking tours and Step-On guided tours of New Orleans' cemeteries and French Quarter.
You must reserve in advance. If you have any questions, or if you're ready to reserve your tour, don't hestitate to contact us at:
504-295-9047 or info@tour-new-orleans.com.
French Quarter Tours
2 hours
$25 per person

Cemetery Tours
2.5 hour
$28 per person

Step-On Guide Bus Tours
Choose your number of hours
Hourly Rates