Death Embraced: New Orleans Tombs and Burial Customs
Death Embraced, by our long time tour guide Mary Lacoste, is a compelling and easy read. If you haven't yet taken a cemetery tour in New Orleans, this book is a good introduction.
New Orleans reverted to Spanish rule in the 1760s and the Spanish, not the French, began above ground burial in New Orleans prior to the Louisiana Purchase.
New Orleans historic cemeteries have both below ground and above ground burials.  All of the graves in the old Jewish cemeteries at the end of Canal Street are below ground as are about half the graves in the St. Patrick cemeteries there.
What about coffins?  For most coffins, wood is the material of choice.  Human bodies are 60% water and wooden coffins allow for evaporation and natural decomposition. It is natural decomposition that makes multiple burials work in a single tomb.
The author's behind the scene accounts of decay, love, and tradition will hold your interest and reveal little known facts.
I leave the continuing story of New Orleans cemeteries and burial customs to you, to delight in the stories that make New Orleans this country's "most interesting city."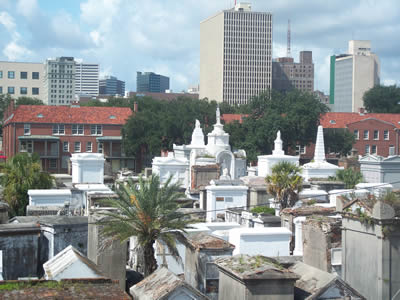 Lafayette Cemetery #1
Hours of Operation
Monday - Friday
Saturday & Sunday
Closed on:
Federal Holidays
Mardi Gras
Lafayette Cemetery #1 Tour
1 hour
Standard rate: $15 per person
---
Historic Cemetery District
Hours of Operation
8:30 am - 4:30 pm
Historic Cemetery District Tours
1 hour (includes St. Patrick, Dispersed of Judah, Cypress Grove)
Standard rate: $15 per person
1.5 hours (St. Patrick, Dispersed of Judah, and Metairie Cemetery)
Standard rate: $15 per person
For sale at the following locations: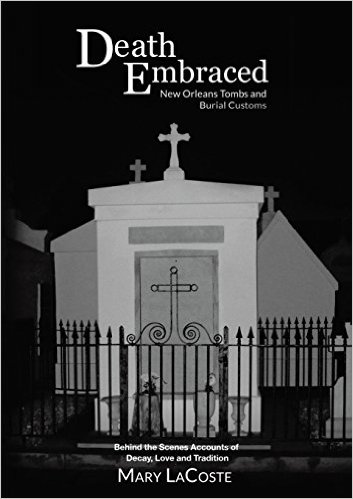 Amazon.com, both paperback and Kindle
Barnes & Noble, both paperback and Nook
1850s House 523 St. Ann in the Pontalba Building on Jackson Square  504 524 9118 or 800.568.6968 Tuesday-Sunday  10 am – 4pm
Historic New Orleans Collection 533 Royal Street French Quarter Tuesday-Saturday  9:30am – 4:30pm   Sunday  Noon – 5pm
Herman Grimma House 818 St. Louis St. French Quarter  504 525 5661 Monday and Tuesday  10:00 am – 3 pm   Thursday – Saturday 10am – 3 pm
Basin Street Station  501 Basin Street  9am – 5pm Daily
Maple Street Book Shop  7529 Maple St.  504 866 4916  Monday – Saturday 10am –6pm Sunday 11am – 5pm
Garden District Bookstore at The Rink 2727 Prytania St. 504 895 2266 10am – 6pm Monday – Saturday  Sunday Noon- 5pm
Octavia Book Store  513 Octavia St.  504 899-7323  Monday – Saturday 10am-6pm Sunday Noon – 5pm